Southern Indiana resident David Price finds fulfillment through volunteer work, job at local restaurant
David Price will quickly feel like an old friend once you have the privilege of shaking his hand for the first time. David brings a positive energy to the people around him that feels contagious.

"Our team loves having David here. He adds character to our business. When staff come in on Tuesday or Wednesday and he's not here yet, the first thing they ask is 'where's David?'" said Chris Jones, General Manager of Mark's Feed Store, where David works two mornings a week.
David's warm nature and ability to bring out a smile in everyone he encounters is not easy to forget, and he will greet you with same welcoming handshake or wave each time you see him thereafter. This is very often the first thing friends, coworkers and Volunteers of America staff and supporters say when you ask them about David.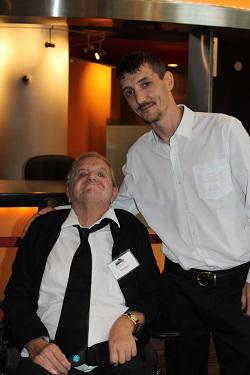 "David has such a huge spirit that can brighten up the room just by him entering and smiling. He brings so much joy to me, his roommates and other staff with his uplifting and witty sense of humor," said John Gray, Home Manager with Volunteers of America's Developmental Disability Services (pictured with David at the Kentucky Center) . "I could go on and on, but to sum it up, he is a fun, caring person to be around, who can make you smile, even on your hardest days."
David has lived in Jeffersonville, IN as a Volunteers of America resident for the last 11 years. David and his roommates, Harry and Mike, live in a residential neighborhood and enjoy spending time volunteering and working in their community and across the bridge in Louisville, KY. Since 2015, David has been a regular volunteer at the Kentucky Center for the Arts, where he greets theater guests, who are most often children visiting on a field trip.
"With his joyful smile, David is the perfect man for the job," said Amelia Reesor, Manager of Volunteer Services at The Kentucky Center for the Performing Arts. "You can see the kids feed off of David's excitement and it builds their own enthusiasm for the show they are about to see. It has been a privilege for me to work with David these past few years and to see his confidence grow as a member of our team."
David joined the Kentucky Center for the Arts staff two years ago as part of an initiative to engage all Volunteers of America Developmental Disability Services residents directly in their community. David works side by side with other volunteers and staff, greeting Kentucky Center guests.
David enjoys his work at the Kentucky Center so much that he decided to join a similar team at the University of Louisville Athletic Department last year. As part of the Special Forces Volunteer Usher program, David works different University of Louisville sporting events, greeting attendees and encouraging team spirit for the Cardinals.
"David joined our Special Forces Volunteer Usher program last season and is a prime example of how being inclusive makes us all better. In our partnership with David and Volunteers of America, we find an authentic spirit who wants to share goodwill and good sportsmanship within the community," said Maggi Constantz, Director-Special Forces, University of Louisville Athletics.
Though David stayed busy at the Kentucky Center and as part of the Special Forces team, he still wanted to do more. Last March, he began working as a part-time employee at Mark's Feed Store in New Albany, IN. On Tuesday and Wednesday mornings, David works at the restaurant, prepping and portioning food to be served later in the day.
Mark's Feed Store is a valued community partner for Volunteers of America as a whole, and has also been a great fit individually for David as an employer. The restaurant management and staff make sure that David is able to comfortably work in the restaurant dining room while he does food preparation work, since the kitchen can feel like tight quarters for him in his wheelchair. David enjoys working with his team at Mark's so much that he will celebrated his birthday there in February with a party surrounded by friends, family and coworkers.
For more than 20 years, Volunteers of America has worked to provide an engaged, fulfilling life for people we support with developmental disabilities in Floyds Knobs, Jeffersonville and New Albany, Indiana, Northern Kentucky and in Middle and West Tennessee. Volunteers of America provides residential homes with around-the-clock care for those we serve in our programs, and we work with community supporters, like the Kentucky Center for the Arts, University of Louisville and Mark's Feed Store to provide a network of support, relationships and opportunities for individuals with developmental disabilities to explore their interests and to pursue employment to live a full, enjoyable life, as David has done.
To learn more about the services we provide in Southern Indiana, contact Director of External Relations Rob Dunn at RobD@voamid.org or 812-944-5213.