Volunteers of America, community demonstrates support at Kentuckiana, Jeffersonville Pride Festivals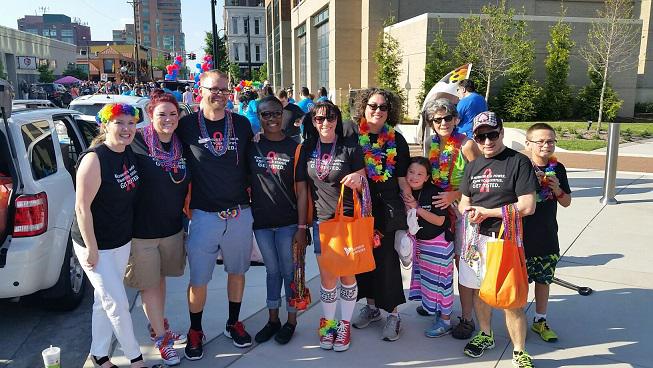 For more than 20 years, Volunteers of America has provided HIV prevention services as well as housing services for those impacted by HIV. We are dedicated to prevention and awareness of the negative impact HIV can have on those individuals who have a positive diagnosis and their families. Volunteers of America stays busy throughout the year with outreach and advocacy activities and this summer is a particularly engaging time for our team and community.
In the month of June, which is also known as AIDS Education Month, Volunteers of America Mid-States HIV Services administered over 300 confidential HIV tests at the Kentuckiana Pride Parade and the Greater than AIDS Community Health Fair hosted by Walgreens on 34th and Broadway in West Louisville.

On June 18 staff and friends of Volunteers of America Mid-States marched in the Kentuckiana Pride Parade, provided supplies to the community and tested 281 individuals. The following week Volunteers of America staff gathered to march in the inaugural Jeffersonville Pride Parade in Indiana, where we provided prevention and education services.
HIV Services program manager Marshall Kellner said he felt particularly gratified with this year's large turnout for both Pride events.
"The support from the community for both Pride events was amazing," Kellner said. "Seeing so many younger individuals and children was really encouraging to think we are truly moving towards a more accepting and loving community. There were whole families in attendance and cheering on, which I have never seen before."
Our advocacy continues this summer and we'd love for you to join us! Join Volunteers of America staff on August 27 for the annual Louisville AIDS Walk at Iroquois Park as we rally together to raise awareness for HIV and AIDS. Help us perform the critical work of educating our communities on personal health and wellness as well as stopping the spread of HIV.
Follow This Link to visit the Volunteers of America team web page and help us in our efforts to support Louisville AIDS Walk!