At Volunteers of America, our mission is to change lives.
Volunteers of America Mid-States creates positive change in the lives of individuals and communities through a ministry of service.
Our programs are diverse and address the urgent needs of our communities. We provide housing for families, veterans and low-income seniors. We provide substance use disorder recovery services for men and women Our Freedom House program is a national model for pregnant and parenting women overcoming substance use disorder. We provide care and support for individuals with developmental disabilities. We provide healing and accountability that brings people together with restorative justice. We provide free, convenient and confidential HIV testing and education.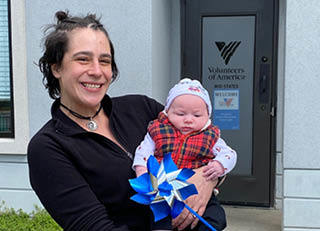 Hear the Voices
Read the stories of volunteers, clients, donors and community members whose lives have changed through the work done by Volunteers of America.
Take a Journey
Take a Journey. A 30-45 minute interactive tour that demonstrates how we help real people facing real challenges to find real and lasting solutions.
Support the Community
Help homeless families regain stability. Support veterans as they reintegrate back to civilian life. Give to help us win the war against opioids.
VOA Mid-States News & Events
Power of 1 Breakfast 2023
14th Annual Tennessee Weekend of Champions
30 Years and Counting – Freedom House
Find Services Offered By
VOA MID-STATES